One of the really authentic bars in town is called 'Oud Arsenaal' (Old Arsenal) and is situated in the Maria Pijpelinckxstraat. In case you didn't know: Maria Pijpelinckx was Rubens' mother, so it shouldn't surprise you you can find this bar in the neighbourhood of the Rubens House Museum.
It has been a bar ever since 1924 and the building itself dates back to early 19th century. The starting date of the bar can still be read in the inscription above the door. The shop front has these orange-brown coloured ceramic tiles and probably the interior dates back to 1932. In that year a permit was granted to enlarge the café and at that moment the art-deco interior was installed, with its brown and yellow floor tiles, and its walls covered with wooden benches, mirrors and wooden wainscoting.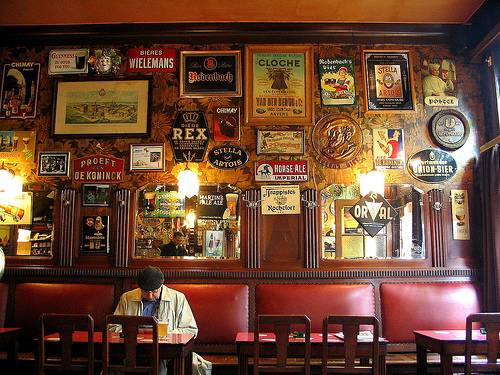 When you enter the cafe, you make a trip through time, going back nearly a hundred years. In 2009 a search was held to look for really authentic public bars and 'Oud Arsenaal' was selected as one of the top-locations.
And another reason to go there: Steph, the landlord, has a really impressive choice of fine beers from all over the country and that at very affordable prices.
Oud Arsenaal
Maria Pijpelinckxstraat 14
Wed-Fri: 10:00-22:00
Sat-Sun: 07:30 – 19:30
Saturdays and Sundays a market (Vogeltjesmarkt) is being held in the immediate neighbourhood, that explains the early opening hours.